How much water am I using? How do I compare? How can I help conserve?
Home water conservation is easy once you understand how and where you can use less.
This quick and easy Water Calculator shows you which water uses in your home are efficient and which are not and offers simple conservation tips that save water and energy.
The Water Calculator compares your water use to a similar average and efficient house in your region. It estimates the energy savings and carbon footprint of your hot water usage, and helps identify specific areas for improving overall household water efficiency.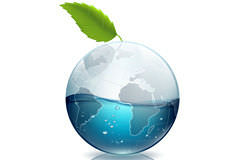 Water conservation is easy and the Water Calculator gets you started right away.
Typical water consumption at facilities.
The table below displays water consumption and sewage generation at facilities.
As water consumption and sewage generation are site specific, the water consumption and sewage generation data are examples which should only be used in the absence of local data or other more accurate information.
| Type of facility | Water Consumption LCD | Sewage Production LCD |
| --- | --- | --- |
| Cottages, seasonal occupancy | 285 | 215 |
| Single family dwellings | 400 | 350 |
| Multiple family dwellings (apartments) | 190-285 | 270 |
| Rooming houses | 150 | 140 |
| Boarding houses | 190 | 170 |
| For each non-resident border | 40 | 40 |
| Hotels | | |
| Without private baths | 190 | 175 |
| With private baths | 225 | 220 |
| Mobile home parks | | |
| Dependent units | 190 | 170 |
| Independent units | 285 | 215 |
| Restaurants | 40 | 40 |
| Camps | | |
| Barracks type | 190 | 130 |
| Cottage type | 150 | 115 |
| Day camps (no meals served) | 55 | 45 |
| Day schools | | |
| No cafeteria or showers | 30 | 25 |
| With cafeteria and no showers | 55 | 35 |
| With cafeteria and showers | 75 | 55 |
| Cafeteria, shower and laboratories | 95 | 80 |
| Boarding schools | 285 | 250 |
| Day workers (office, industrial etc.) | 55 | 40 |
| Hospitals (depending on type) | 570-945 | 500-800 |
| Institutions other than hospitals | 285-475 | 340 |
| Picnic grounds | | 10 |
| Toilet only | 20 | |
| Toilet and showers | 40 | 20 |
| Swimming pools and bath houses | 40 | 40 |
| Clubhouses | | |
| With resident members | 225 | 185 |
| For each non resident member | 95 | 80 |
| Self-service laundromats | 190/wash | 190 |
Postal Address:
PO Box 12699
Lloydminster, AB T9V 0Y4