What is a Water Chiller?
A water chiller is a unit that is used to pump chilled water into commercial and industrial equipment/machinery through a hydraulic circuit.  The pumping action happens on a continuous basis.
A water chiller is mostly used for cooling equipment and machinery to prolong life and reduce operational costs by reusing water instead of constantly using new city water.
Water Chillers
To prolong the life of machinery and to lower the cost of operational expenses.
What are the benefits of Chilled Water?
Using a water chiller will protect equipment/machinery against overheating and will cut operational and utility costs by conserving water.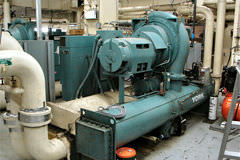 Postal Address:
PO Box 12699
Lloydminster, AB T9V 0Y4