What is a Chemical Feed System?
A Chemical feed system is the feeding of chemicals (either dry or liquid) into a water treatment system, either continuously or on a batch basis, also known as "shot-fed".
The most common use for Chemical feed is in the treatment of municipal and industrial water and wastewater or in the sterilization of water that is used for heating or humidifying buildings and dry cleaning.
Other uses include Chemical feed into boiler systems to help control or prevent corrosion, scaling and sludge build-up.
Chemical Feed Systems
To reduce and prevent scaling and corrosion of equipment and to sterilize water.
What are the benefits of a Chemical Feed System?
Using a chemical feed system will prolong the life of equipment by protecting it against corrosion and scaling. It can also be used to sterilize water, making it safe to use in applications like heating systems and humidification.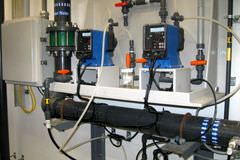 Postal Address:
PO Box 12699
Lloydminster, AB T9V 0Y4