Testimonial - Bruce and Ruby Liston - Alberta Beach, AB
George helped us with our Kinetico system even though he wasn't an authorized dealer at the time.
Our usual dealer seemed to be to too busy selling refrigerators to even do a water analysis for us, as we dropped off a sample and after 3 months, still didn't receive any results.
During a long weekend, a part on our Kinetico broke and our basement got flooded. We were planning a get-together with some town guests and needed help, but again, the authorized dealer could not assist and did not have any parts either.
Since George was a 3 hour drive away, he sent us parts with a Greyhound bus and we received the parts that same evening.
George then guided us via telephone and instructed us on how to safely shut down the system, remove the broken parts, and install the new ones.
We also had several phone conversations with George after, during which he educated us on the Kinetico system.
When our water well plugged up, George arrived at our door, took the Kinetico tanks to his shop, cleaned them out and returned it back to us. For our convenience, he wrote all the necessary settings and instruction on the inside of the Brine tank lid.
Afterwards, George gave us a courtesy call to check up on everything and to ensure that the re-install went well.
On another occasion, George also guided us on the process of shocking our well.
It is clear that George really does care about his customers! Even when he couldn't assist us in person, he was always willing and ready to help us on the phone.
George is professional and knowledgeable.
We hope to continue doing business with him and we highly recommend his services.
Testimonial - Albin Zubot - Project Inspector
The 3 unit iron filter skids for the Burstall Water Treatment Facility were delivered well before the target date.
Water by George was flexible and accommodated the required dates to install, put on line and test the unit.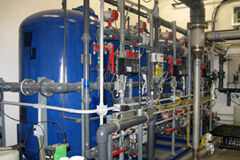 The filter unit met all of the water quality and flow rate requirements on the first test of the unit and 3.5 years later is still meeting those requirements.
Regular back washes and one electronic board replacement has been the only scheduled and unscheduled  requirements over these 3.5 years.
Postal Address:
PO Box 12699
Lloydminster, AB T9V 0Y4