Who we are and what we do
Water by George is a water treatment business that specializes in the design, installation and maintenance of water treatment systems in the Lloydminster and surrounding area. George Hogg, the founder and owner of Water by George, has been active in water treatment since 1980.
With over 30 years experience in the water treatment profession, we offer services to many industries:
Farmers and Ranchers
Hospitals and Healthcare Institutions
Residential
Commercial, Municipal and Industrial
Our staff and work
Besides being highly skilled and experienced, the staff at Water by George possess the necessary knowledge required to aid our customers in selecting the correct materials. The proper planning and application of such is essential to any successful water system.
The water systems we design, install and maintain include:
Reverse Osmosis
Water Softeners (meter controlled, twin tank alternating, duplex)
Iron Removal Systems
Tannin Removal Systems
Electrolyzed Water Treatment Systems (Electrolysis)
Ozone Water Treatment
UV Light Treatment (UV Sterilizers)
Water Distillers
Water Chlorination and Water Well Shock Treatment
Arsenic Reduction
Chemical Feed Systems
Water Chillers
Refurbished Systems
What we offer
At Water by George, we strive to provide excellent service!
Well performing systems is one of our top priorities and customer satisfaction is key! Click here to read some of our testimonials.
In addition to our services, we have a wide range of products for sale.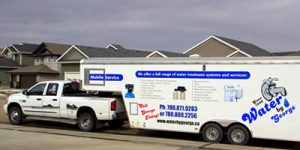 How we can help
We understand that customers have different needs, so when you deal with Water by George, not only will you save on costly services and repairs because we do a job right the first time, but you will also have the option of making use of our leasing and financing packages.
For more information on our leasing and financing packages and to find out which one suits your budget best, please contact us.
We are always available to answer questions and give technical support. Feel free to contact us should you need assistance.
Postal Address:
PO Box 12699
Lloydminster, AB T9V 0Y4